Welcome to Archive Games
Archive Games, a freely downloadable application, allows you to quickly and easily download great games directly to your desktop!
Download it now
and get started!
Caster
Elecorn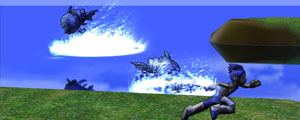 The Flanx have taken over Middon, and it's up to you to save it! As a new recruit, you'll level up your character with new attacks and abilities that will help you fight the Flanx -- and you will quickly become a devastating force to be reckoned with! With its beautiful effects and real time terrain deformation, Caster gives players a sense of power over their environment. Caster features a pulse pounding soundtrack, perfectly fit for the intense 3rd person action shooter experience.
Critical Acclaim
"It's your pathway to total power and you'll love blasting your way through every second of it".
--Mike Rose (www.Independently-Speaking.com)

"I immediately fell in love with Caster's simple premise and retro-style gameplay, and I enjoyed every moment of it through the epic final boss battle. Want more, please."
--John Bardinelli (www.bardinelli.com)

"Caster gets a 5/5 rating overall for a fantastic gaming experience."
--Rolland Judd (www.harryballs.com)

"Caster is well-polished and it genuinely feels good to run around the game's large 3d landscapes and blast them".
--Derek Yu (www.TIGSource.com )

"...[Elecorn]'s done a superb job of creating an action game where you run, jump and hurl spells into a colourful 3D world".
--Jim Rossignol (www.rockpapershotgun.com)


"...Caster's shining moments - some brilliantly thought out levels and a truly original boss ending - are a sign of great things to come."
--Alex McLarty (
www.themacgamer.com
)
Plus... Free Bonus Episodic Content!
Caster is an episodic game that presents an intense 3rd person action shooter experience with pulse pounding music that will keep you wanting more! And more you will have with all new episodes for FREE. That's right, buy the game once and get all additional episodes absolutely free!
Get Archive Games to download this game now!